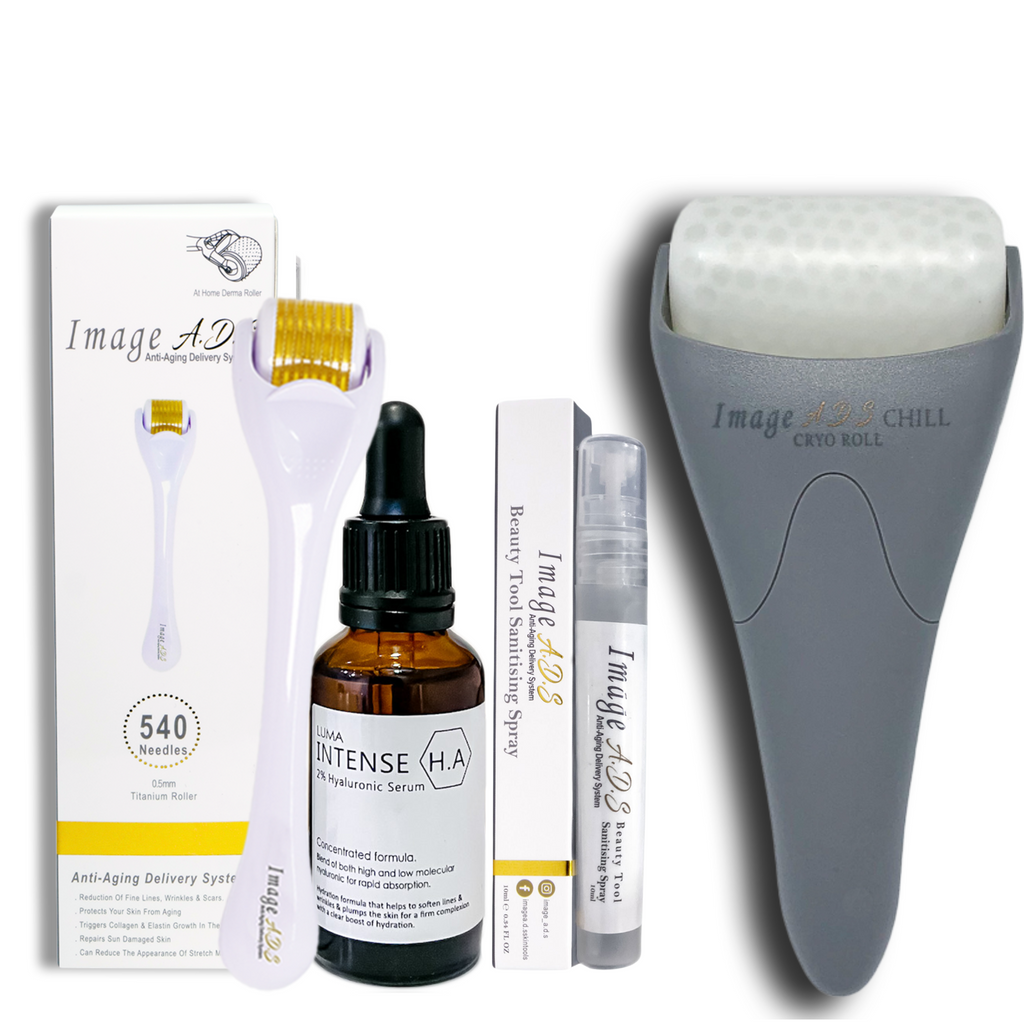 -41%
Unlock the secrets to radiant, youthful skin with our Image A.D.S Dermaroller Kit, specially curated for beginners seeking a transformational skincare experience. This comprehensive kit includes everything you need to achieve a radiant complexion from the comfort of your home. Free online skin consultation included. 

What's Included:

Image A.D.S 0.2mm Dermaroller: Gentle and effective, this precision tool is perfect for beginners. The fine 0.2mm needles will replenish your skin's moisture & stimulate collagen production, leading to smoother, more even-looking skin. It will also push your anti aging serums & creams deeper into the skin due to increased serum absorption.

Luma Skincare 2% Hyaluronic Serum: Experience intense hydration with our premium Hyaluronic Serum. Infused with potent antioxidants, it plumps and revitalizes your skin, leaving it with a healthy, youthful glow. With the blend of both high & low molecular hyaluronic for rapid absorption, this ultra lightweight, non-greasy formulation provides intense hydration and restores moisture balance in both dry and oily skin type. This blend of skin softening hydration formula softens fine lines & wrinkles whilst plumping the skin for a firmer complexion

Sanitizing Spray: Prioritize safety and hygiene with our Sanitizing Spray. Specially formulated to cleanse your dermaroller and skincare tools, it ensures a clean and bacteria-free skincare routine.
Chill Ice Roller: Stored in your freezer between uses, our Cryo Ice Roller reduces puffiness, inflammation, itching and redness while visibly lifting and tightening the skin.
How To Use
Dermaroller: 2-3x per week
Luma Skincare 2% Hyaluronic Serum 30ml: Apply morning/evening. 
Ice Roller: Daily and after rolling
Sanitizing Spray - Before & After using Dermaroller or any other skin tool.